In this article, we will learn about the difference between the Public, Private, Hybrid and Community Cloud.
On the basis of the Cloud Deployment model, there are mainly four cloud deployment models.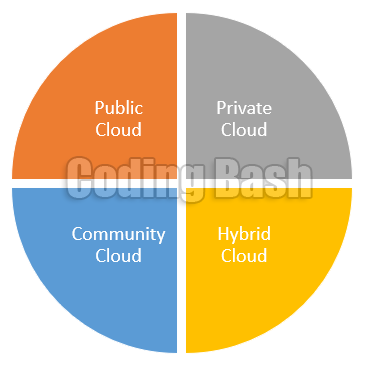 1. Public Cloud: In the Public cloud, services offered in the cloud are available for public use over the internet. Availability of services for public use does not mean your data is available to the public. Actually, the data you host in Azure is Secure and not accessible to an unauthorized person. Cloud Infrastructure is shared between multiple cloud users which are owned and maintained by the Cloud Service Provider. Some of the advantages of the Public Cloud are having Lower Costs, No Maintenance (means your Cloud Service Provider provides the maintenance), Nearly Unlimited Scalability, High reliability, etc.
2. Private Cloud: In the private cloud, computing resources are exclusively for one business or organization. A private cloud can exist on the on-premises or can be located on the Cloud Provider datacenter. Private cloud is best suited for the users/organization that has high-security requirements, high management demands, and high availability. The advantages of private cloud are Flexibility, Scalability, and Security (much higher as compared to other deployment models). The only drawback is the cost or pricing with this deployment approach as it cost near to having an on-premises data center.
3. Hybrid Cloud: Hybrid Cloud combines on-premises infrastructure with cloud-hosted services whether in the private cloud or in the public cloud. For example, several companies host the SQL Server database in their on-premises infrastructure whereas having another application in the public cloud from there user can access that SQL Database. Advantages of hybrid cloud are Flexibility, better control (as organizations can keep the sensitive data in their on-premises datacenter), Ease as well as cost effeteness.
4. Community Cloud: In the community cloud, systems and services are accessible by a group of organizations. The infrastructure of the cloud could be shared between the organization. Advantages of Community Cloud are Cost Electiveness as resources are shared by a group of users or organizations, Security, Shared Resources, Collaboration, and data sharing, etc.